Fundamental Plan
•
What is constitutive for Christianity and what is unique in it?
•
We need a good foundation in everything we do to succeed.
According to Paul the Apostle:
"No man can lay a foundation other than… Jesus Christ." (St. Paul, 1 Corinthians 3)
How to lay the foundation, which is Jesus Christ? (Quotes from NEW AMERICAN STANDARD BIBLE®, Copyright © 1960, 1962, 1963, 1968, 1971, 1972, 1973, 1975, 1977, 1995 by The Lockman Foundation. Used by permission.)
1. Explore the opportunity
"For God so loved the world, that He gave His only begotten  Son, that whoever believes in Him shall not perish, but have eternal life." (Jesus, Gospel of John 3) 
God loves you and is ready to engage in your life so that the best dreams come true.
"I came that they may have life, and have it abundantly. " (Jesus, Gospel of John 10)
He has a wonderful plan for you – life with full value and purpose.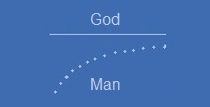 Why, however, most people do not have life in abundance?
2. Explore the obstacle
"For all have sinned and fall short of the glory of God." (St. Paul, Letter to Romans 3)
Man is sinful and consequently separated from God, therefore he can not know or experience God's love and plan for his life.
"For the wages of sin is death." (St. Paul, Letter to Romans 6)
Man was created to have fellowship with God, but he arbitrarily chose the path of independent life. As a result, relationship with God was broken.
This self-will, expressed in rebellion or indifference to God, is a manifestation of what the Bible calls sin.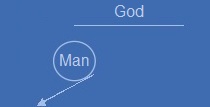 Man tries to reach God and gain the fullness of life through his efforts, such as: good, honest life, ethics, philosophy or religion.
However, there is only one way to overcome this gap:
3. 

See the solution
"Christ… suffered once for sins, the righteous for the unrighteous, to bring you to God…" (St. Peter, 1 Peter 3)
God has bridged the gap that separates us from him, by sending his Son, Jesus Christ, to die for us, thus paying the penalty for our sins.
"I am the way, and the truth, and the life; no one comes to the Father but through Me." (Jesus, Gospel of John 14)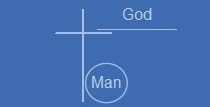 Jesus Christ is the only solution to the problem of rebellion and guilt of a man. Through Him you can come back to the relationship with God and experience His plan for your life.
4. Applay the solution
"He came to His own, and those who were His own did not receive Him. But as many as received Him, to them He gave the right to become children of God, even to those who believe in His name." (St. John, Gospel of John 1)
We need to receive Jesus, that is, give him our lives as his own.
"For by grace you have been saved through faith; and that not of yourselves, it is the gift of God; not as a result of works, so that no one may boast." (St. Paul, Letter to Ephesians 2)
We receive Jesus by faith. Giving life to someone requires faith.
Jesus Christ says: "I stand at the door and knock; if anyone  hears My voice and opens the  door, I will come in to him and will dine with him, and he with Me." (Book of Revelation 3)
We receive Jesus by personally inviting Him to our lives.
Two circles in the picture show two attitudes of man towards God. Inside is a throne that symbolizes the place of making decisions, our will.

Left circle: My – Self is on the throne of life, † – Christ not invited to live. Different areas of life are subjected to own Self, which often leads to discord and frustration.

Right circle: † – Christ on the throne of life, Me – the man gave the throne of his life to Christ. The areas of ​​life under the direction of Christ, which leads to harmony with God's plan.
Which circle best represents your life?
Does the second circle represent the life you desire?
Further remarks will explain to you how you can invite Jesus Christ to your life.
You can invite Him now through prayer. Prayer is a conversation with God. God knows your heart and does not care for beautiful and carefully chosen words, but for the sincerity of your heart.
Here is an example of prayer:
Christ, I need you! I admit my sinfulness. Thank you for paying for my sins by dying on the cross for me. I open you the door of my life and invite you to come in. I recognize all my life as Your property and I put it into Your hands to do whatever You can, including salvation. I trust only You and do not rely on my own merits. Change me into whom you want me to be.
Do these words express the desire of your heart?
If so, what stands in the way of directing them to Christ?
5. Make sure the foundation has been laid
Did you ask Jesus Christ to come into your life? Did you do it honestly? If so, remembering His promise in Revelation 3, where is He right now in relation to you? Once again, this promise:
Jesus Christ says: "I stand at the door and knock; if anyone  hears My voice and opens the  door, I will come in to him and will dine with him, and he with Me." (Book of Revelation 3)
Christ said that He would come into your life. Would He mislead you? On what authority do you know that God has answered your prayer? (The trustworthiness of God Himself and His Word.)
"And the testimony is this, that God has given us eternal life, and this life is in His Son. He who has the Son has the life; he who does not have the Son of God does not have the life. These things I have written to you who believe in the name of the Son of God, so that you may know that you have eternal life." (St. John, 1 Letter of John 5)
God said that with such people who turned away from rebellion and "have a Son" – they invited Jesus Christ into their lives, acknowledging His rule, He intends to spend eternity. He will never fail.
6. How to build on a foundation?
St. Paul continues:
"Now if any man builds on the foundation with gold,  silver, precious  stones, wood, hay, straw, each man's work will become evident; for the day will  show it because it is to be revealed with fire, and the fire itself will test the quality of each man's work.  If any man's work which he has built on it remains, he will receive a reward." (St. Paul, 1 Corinthians 3)
One log taken out of the bonfire will quickly fade. Wherever you come from and wherever you go, you need a fellowship with others who have laid the foundation, which is Jesus Christ, to help you build on it.
If with us, sit at the table … A great adventure has begun in your life, for which God created and destined you.